Tripawds is a user-supported community. Thank you for your support!
Today at the (doggie) oncologist's office, another (human) client came in after I, and checked in, sat down while I filled out paperwork. Then one of the clinic staff came over with a bath mat, offering Roscoe an alternative to the tile.
He lay down on the mat, wagging his tail while he looked at the other human client. After a few minutes, she said, "My stars. I can't help it. You are just too darn adorable." She got up, walked across the lobby, knealt down, gave Roscoe a big hug and then a couple minutes of belly rub, telling him what a happy and loved dog he is.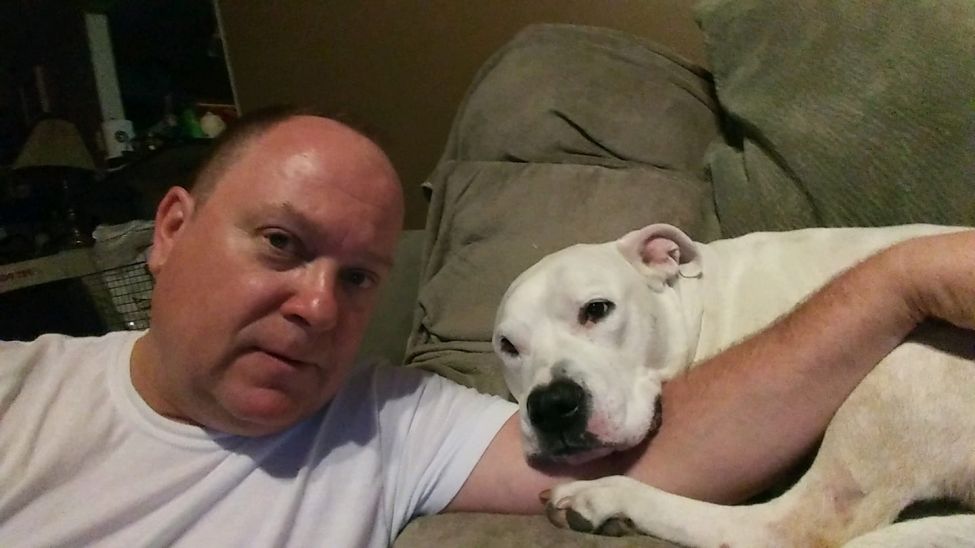 There are some really bad headlines in the world these days.  Then there are the headlines we walk through.  I'm guessing right now that for every painful thing that happens in a life, there are hundreds or thousands of blessings and miracles that happen as well.  I wonder how many of these things I have missed?  I've seen more than a few, but now that my mind is more like a dog's, I see it everywhere. Cups runneth over all over the place. Blessings pour out of every unexpected place. Mr. Rogers was right:
"When I was a boy and I would see scary things in the news, my mother would say to me, "Look for the helpers. You will always find people who are helping."
These people that show a little kindness out of the blue are my heroes, and I never noticed there are so many of you out there.  I knew you were out there, but never realized just how many.
Living gospels.
Roscoe is doing really well, considering how I thought he might be eight hours after his first round of chemo.  His appetite isn't as voracious as it normally is, but he's got appetite.  He's even playing with Hazel tonight after a long day.  He walked a few hundred yards altogether, I'm sure.  When we got home, he had a little face-plant near the front door, but I'm thinking he caught the scent of a cat or possum, and stopped to take it in.
I'm happy with my vet's choice of specialist.
I'm stoked to be comforting my friend.
I have no words for how I feel about his comfort to me.
He's a gem.